Utah Camp-Clipper Project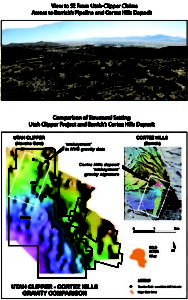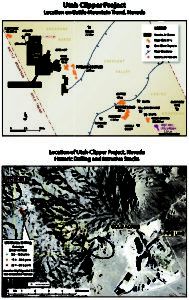 Utah-Clipper Project, Lander County, Nevada
The Utah Clipper Property is located adjacent to Barrick Gold's multi-million ounce Pipeline-Gold Acres gold mine complex, in the Cortez-Pipeline sector of the Battle Mountain Gold Trend, Nevada. The project totals 16 patents and 170 unpatented mining claims.
The Pipeline and Gold Acres mines are operated by Barrick Gold. Barrick also owns the nearby Cortez Hills gold deposit discovered in 2003, which hosts reserves of more than 10 million ounces of gold. Barrick recently announced significant new discoveries about 6 km (3.7 miles) and 8 km (5 miles) southeast of Cortez Hills, known as Goldrush and Four Mile. An inferred gold resource of 15.7 million ounces has been reported at the developing Goldrush area.
Past work includes modern exploration by Phelps Dodge, Amax, Kennecott, Homestake, Newmont, US Borax, Goldfields, Noranda/Hemlo, Uranerz, Agnico-Eagle, Barrick Gold.  Drilling was completed from 1992 to 2013. The drilling is wide spaced leaving much of the property unexplored.
The Utah Clipper Property covers a portion of the Roberts Mountain thrust with metamorphosed lower plate limestone and limey siltstone in the footwall of the thrust.  The principal geologic targets at Utah Clipper are as follows;
Vein and disseminated silver-lead-zinc deposits in upper plate rocks.
high grade structurally controlled gold deposits in skarn in "lower plate" carbonates
Classic "Carlin" style bulk mineable, disseminated gold deposits
The surface rock exposures at Utah Clipper are Ordovician and Silurian siliceous shales, cherts, and sandstones in the upper-plate of the Roberts Mountain Thrust Fault. Favorable lower-plate carbonate rocks, are encountered in drilling, and are interpreted as the Devonian Wenban and Silurian Roberts Mountains Formations. Both these carbonate formations are known to host major Carlin-type, gold mineralization in northeast Nevada, and are the host rocks to much of the gold mineralization at the Pipeline, Cortez, and Cortez Hills deposits located near the Utah Clipper Project. Felsic to intermediate intrusive rocks, of Jurassic to Tertiary-age, cut all the older sedimentary rocks. Intrusive bodies are exposed on the property, in the nearby Gold Acres Mine pit, at the nearby Robertson Project and at Bullion Mountain.
The shallow silver mineralization is hosted in veins, stockworks and disseminated in wide structures that occur in the upper-plate, siliceous formations. Small historical production of silver and base metals is recorded from the Boss Mine and silver production is recorded from the Utah Camp and Clipper mines, all located within the claim boundary. Highlights include 25 feet grading 0.052 opt gold, 50 feet grading 6% combined lead-zinc, 5 opt silver and 0.012 opt gold in skarn, and anomalous silver-lead-zinc mineralization throughout the top 100 meters of the silver zone.
The near surface oxide silver-lead-zinc zone has been identified in soil and rock sampling over a length of 3.2 km and a width of 0.6 km. Drilling by US Borax and others in this area included intercepts of up to 12 opt Ag, 3% zinc and 5% lead over 10 feet.  Significant intercepts of 100 feet of 2 opt silver, and 2% combined lead and zinc are present in 17 of 26 wide spaced holes. The holes are roughly 400 feet apart.  Other holes along this trend are 2 to 3 kilometers apart.  Potential for 10 to 30 million tons grading 2 to 3 opt silver (66 to 100 g/t) exists within the drill area.  Upside could be over 100 million tons based on the above.
The Utah-Clipper project is located in Lander County, Nevada.  The project has 170 unpatented mining claims and 17 patented claims approximately 3 to 5 miles west of the Gold Acres/Pipeline mines.  The project has been explored since the late 1940's by large and small exploration and mining companies including Phelps Dodge, Amax, Placer, Homestake, Barrick, Agnico Eagle, Noranda, U.S. Borax, Cordex and others.  Near surface silver-lead-zinc mineralization was mined from adits, shafts and stopes from the early 1900's to 1939.  During this period, silver averaged better than 20 ounces per ton and lead averaged 8%.  Little zinc was recovered during this period although assays ranged form 3 to 8%.
Several companies explored the near surface (first 300 feet) for oxide silver-lead-zinc mineralization from 1981 to 1989 with significant success.  Later work focused on near surface and deep disseminated gold deposits.  These efforts were somewhat successful in identifying both gold mineralization and host rocks of lower plate (possibly Roberts Mountain or Wenban).  Gold has best been established in skarn where 50 feet grading 0.056 opt gold is associated with skarn and visible galena.
Although there have been numerous holes drilled (~40 within the boundaries and an additional ~30 adjacent to the boundary), most of the holes are separated by 3,000 to 6,000 feet between holes.  The deepest holes were 3,200 and 3,800 feet while most were less than 400 feet deep.
Significant work has been completed on the property including over 5,000 soil samples, 300 rock samples, gradient array IP, CSAMT, gravity, magnetics (both ground and air), and detailed geologic mapping.  All data is available digitally.
This project is currently leased out with the adjacent Bankop and Chief/Bully projects to Riley Gold.