4 Metals, Arizona
The 4 Metals Project is comprised of 41 unpatented mining claims covering a total of 820 acres located within the prolific Arizona Copper Belt.  The property is within Santa Cruz County, Arizona about 15 miles east of Nogales.  This project represents an advanced stage exploration property with a historic resource.
Geologic mapping, soil and rock sampling, geophysical surveys and drilling have been conducted by Anaconda, Duval, Noranda, Asarco and others over a period of 80 years.  This work identified a breccia pipe with moderate to high grades of copper, molybdenum, silver and gold.  Past resource calculations are listed below;
SOURCE
YEAR
 TONS MM
% CU
% MO
Au opt
Ag opt
% Cu EQ
WEST RANGE
1967
14.5
0.5
0.023
NA
NA
0.53
including
4.9
1.02
0.036
NA
NA
1.07
MRA
1995
or
21.4

50

0.58

0.50

0.025

0.02

0.009

0.003

0.06

0.04

0.6

0.55

BLK
2005
17.3
0.77
0.042
0.009
0.05
1.52
including
7.84
1.2
0.066
0.009
0.08
2.31
Oz Minerals

2012

2012

or
26

90

0.8

0.47

0.04

0.009

0.10

0.95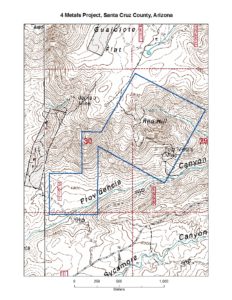 The breccia pipe has been explored with at least 65 core holes, 6 RC holes and three adits driven in the late 1800's.  The above resources relied primarily on underground sampling and drilling conducted in the early to mid 1960's.  In 1995 Mine Reserve Associates determined a resource of which 40% was considered to be measured and indicated.  A resource calculated to a depth of 300 feet below the 5060 level (Lower adit) was estimated at 50 million tons grading 0.5% copper and 0.025% moly.
Additional potential exists at depth, to the west and south.  Additional breccia pipes and shear zones exist within and adjacent to the property boundary.  The potential for a buried porphyry system at depth is also possible.  Previous drilling indicates mineralization within the breccia continues to depths of 2000 feet or more. Total potential for the area is considered to be over 500 million tons grading better than 0.8% copper equivalent or 500 million tons averaging 0.6% copper.
The project is optioned to Barksdale Capital.